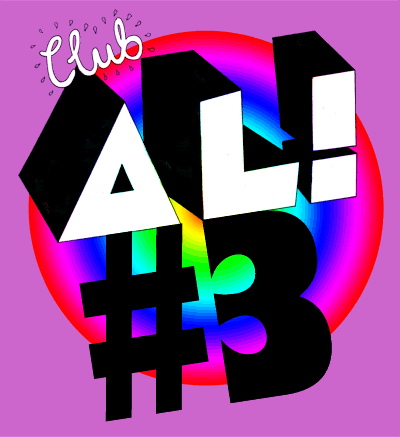 Oh hey, April 6th. Not only are you my birthday but you are also 6 days after March finished. Whoops. I promised one of these once a month and there was no March mix. I apologise. Maybe I'll try to make two in April? Maybe I won't? THE MYSTERIES OF LIFE!
Anyway this new Volume definitely encapsulates the spirit of AL over the course of 58 delicious minutes. I would recommend listening to this mix with friends (not family), in complete silence as you sit by the pool and let the music change your lives with each song. I can think of no other circumstance where listening to this mix would work.
If you want to come experience Club AL in the flesh you can, it goes down every Thursday night in the Front Bar at Goodgod Small Club from 9pm. It's FREE and I DJ from start to finish with a lil guest set from a good friend with good taste each week.
What are you waiting for? Download Club AL Volume 3! Tell your friends to tell their friends about it!
Club AL Volume 3 (click to download)
Tracklist:
WAVEY DAVEY B INTRO
AMEL LARRIEUX get up
COLLARBONES beaman park
DEMARCO true friend
BLAQSTARR bang hard
GETO BOYS straight gangsterism
SHUGGIE OTIS strawberry letter 23
SHAGGY bad mon don't cry
METRONOMY a thing for me (BREAKBOT remix)
504 BOYZ i can tell you wanna fuck
DJ NATE maybe sum day
SAN SODA kylie bling
NATE DOGG feat DAZ DILLINGER these days
OTOUTO w. hillier
PETER, BJORN AND JOHN last night
YOUNG L conscious minds
BONE THUGS N HARMONY wind blow
THE LIJADU SISTERS lifes gone down low
THE RAINCOATS lola
FRANK OCEAN american wedding
MOTT THE HOOPLE all the young dudes