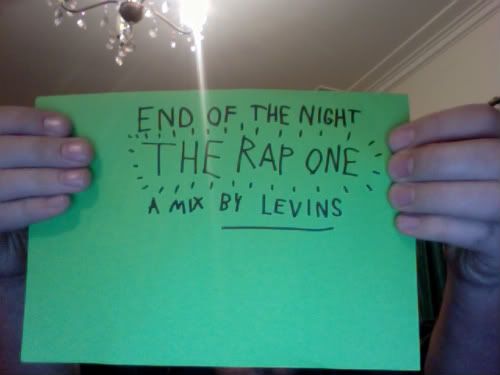 So I made a new mix of rap songs just in time for Halfway Crooks this weekend.
It's the first in a series I'm gonna do featuring songs that I like to play at the end of the night. I mean I like to play most of these songs at the beginning and middle of the night too but these songs in particular are ones that I've ended a few parties with over the years – or continued the party with at a kick on!
Some of these songs are old, some are new, some of them are a little obscure and others were big hits. They're all Southern rap songs either based around a soul sample or with a sing song hook. All the songs are pretty anthemic, even to a dude like me on the other side of the world from where these songs were made.
End Of The Night – The Rap One
Tracklist
GANGSTA BOO, PB, PLAYA FLY & BUN B sippin & spinnin (DIRTY DOCJAM remix)
OUTKAST feat SLEEPY BROWN elevators (me and you)
BIG MIKE world of mine
SOULJA SLIM love me or love me not
UGK use me up
THREE 6 MAFIA feat REMY MA pussy got ya hooked
MAC feat SILKK THE SHOCKER & FIEND be all you can be
OUTKAST spottieottiedopaliscious
DIAMOND & PRINCESS georgia girls
LUDACRIS feat FIELD MOB & JAMIE FOXX georgia
GETO BOYS six feet deep
UGK one day
HOOD HEADLINAZ soul glo
TYTE WURK mary jane
DEVIN THE DUDE doobie ashtray
DEVIN THE DUDE stray
Z-RO i hate u
X.O. feat CEECEE grind baby
DAVID BANNER cadillac on 22's 
YOUNGBLOODZ feat BIG BOI 85
UGK feat OUTKAST international player's anthem
LIL' WAYNE shooter 
LIL' WAYNE feat BOBBY VALENTINO mrs officer
DEVIN THE DUDE feat SNOOP DOGG & ANDRE 3000 what a job
OUTKAST feat CEE-LO and BIG GIPP git up, git out
UGK in the mornin'