10 dudes came round for dinner the other night and received the works: cheeseburgers with bacon, pickles, red onion and rocket on a charred bun. I tried to cook em pretty rare too.
After smashing 2 burgers each and a handful of hand cut fries, I still had the deep fryer going and a bunch of leftover pickles. I make my own dill pickles using cucumber grown by B's Dad and they're super tasty. I'd read about deep frying pickles over at Meatwave and decided to give em a try. We didn't have any cornmeal in the house so I used masa. Different but good.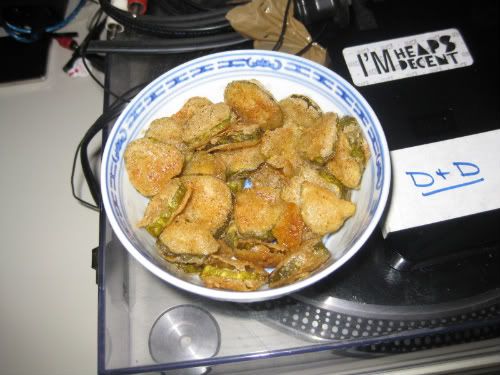 They came up terrific, the batter of masa and flour puffed up and went nice and crispy while the pickles stayed juicy. The taste was off the hook. Deep fried pickles would be the ultimate bar snack! Serve them with some toothpicks and some good beer. Mmmmm.