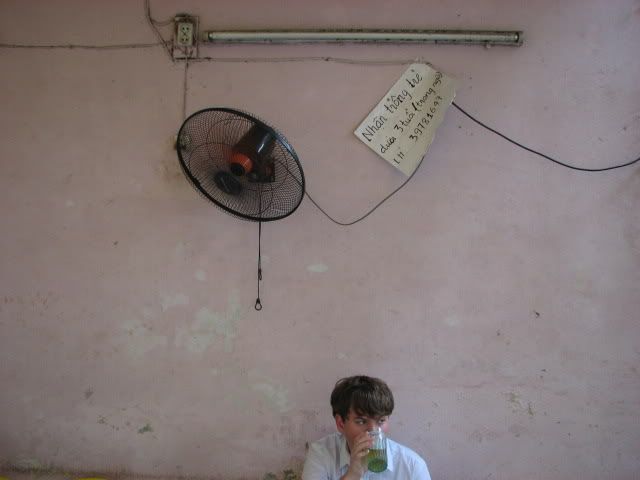 Even though 90% of the reason we had come to Vietnam was to eat mad shit, our stomachs were only so big. With so many amazing, unique foods on offer that we NEEDED to try every day, we were bound to overdo it at least once. And boy did we overdo it today.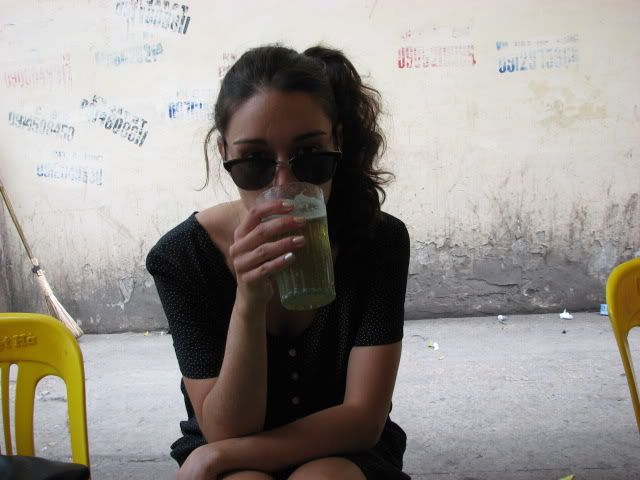 The breakfast at our hotel is pretty decent – B fills up on eggs and I slurp down a bowl of pho ga before we head out for some morning beers. Hanoi specialises in bia hoi – fresh beer brewed every morning and poured out of kegs by thousands of beer vendors across the city for a couple of cents a glass. It's delicious.
So was the bun cha we ate yesterday, maybe we should eat another bowl at a new place?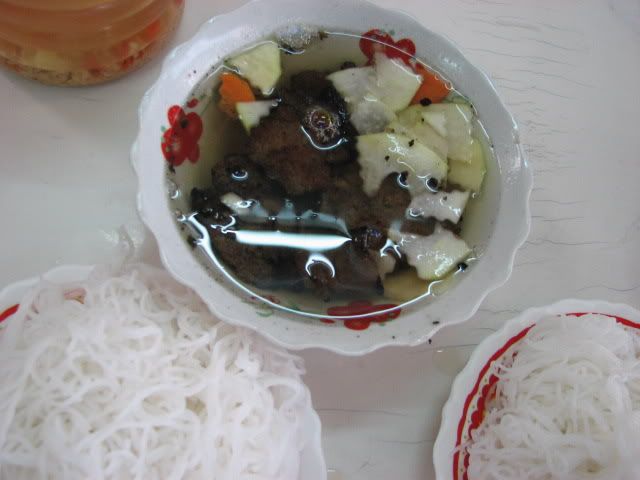 It wasn't quite as good as the bowl we shared the day before but it was still pretty awesome!
We were north of the lake for reasons besides bun cha. We were looking for a pho spot that served up a darker, beefier broth. The place was called Pho Thin (13 Lo Duc Street).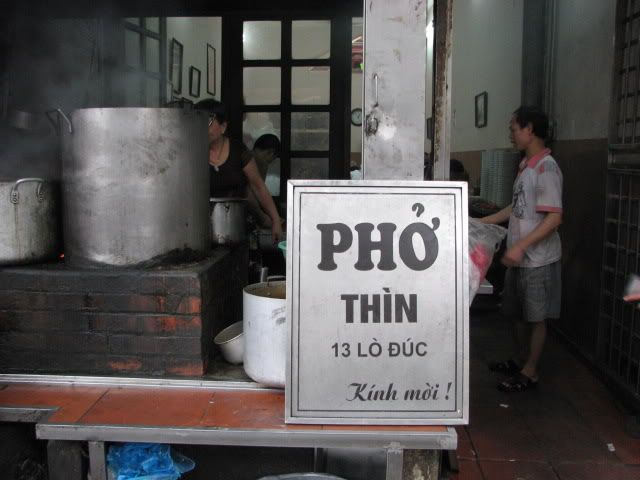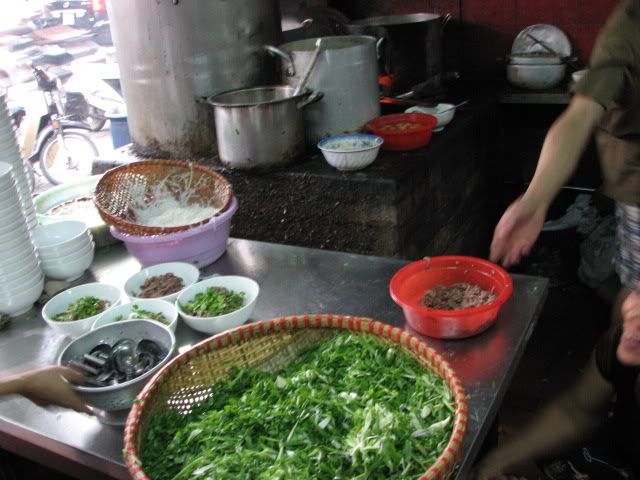 Although this was easily the most run down place we ate at in Hanoi (not hatin, just statin!), the smell billowing out of the pots was wild, and the bowls of soup the staff were putting together at lightning speed looked incredible.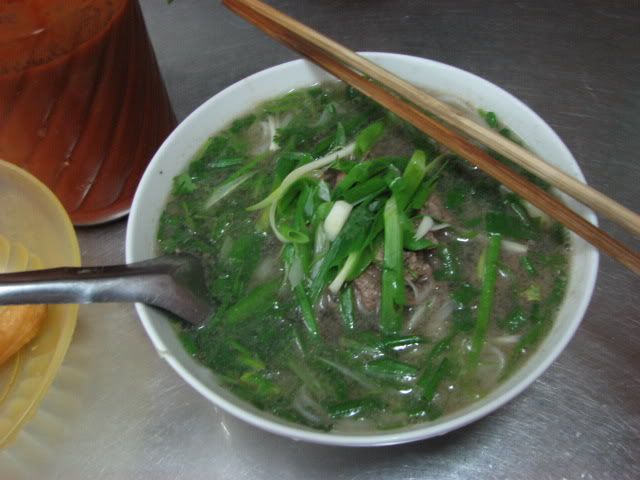 What set this pho apart from the rest of them was that the beef was stir fried before joining the soup in the bowl. It was such an intense, beefy taste. I think this was the best bowl of pho I've ever had.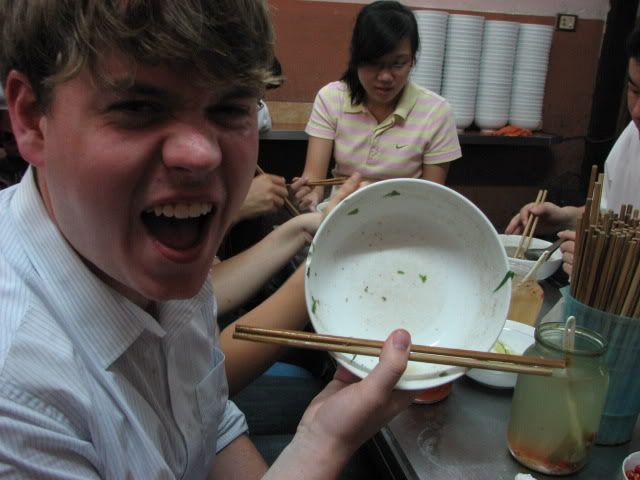 SMAAAAAASHED!
I really shouldn't have finished the bowl right to the bottom. I mean, I had to, a rule is a rule – but I'll recount what I'd consumed so far this day, and keep in mind that it was barely midday!
– 1 bowl of pho ga
– 1 bowl of bun cha
– 1 bowl of pho
– 2 iced coffees
– 2 glasses of beer
I was done. Totally game overed. We walked back to our hotel, clutching our bellies. I collapsed on our bed and enjoyed 3 hours of food overload crazy dreams before B woke me up and informed me that it was time to eat again. Lucky me!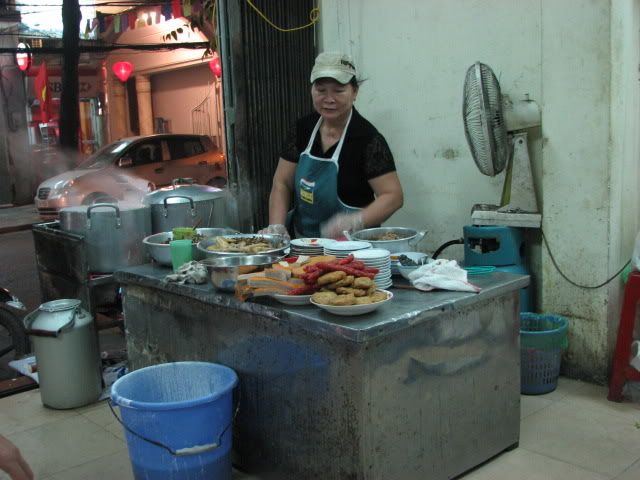 We visit this lady for some Bánh cuốn nóng, little rice dumplings with pork and mushrooms inside.
They were very nice, but most importantly they were small! Was this all we were gonna have to eat tonight? Was I going to get off this easily?
Oh no! It's B's biggest weakness! Banana fritter vendors!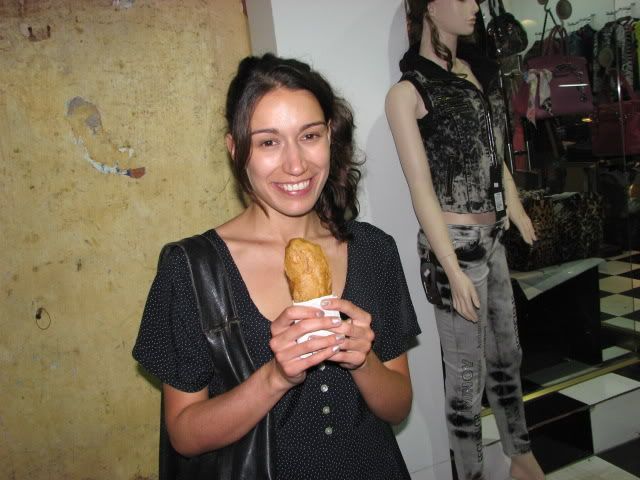 Surely that counts as dessert right? Something sweet to end the night on? Wrong again!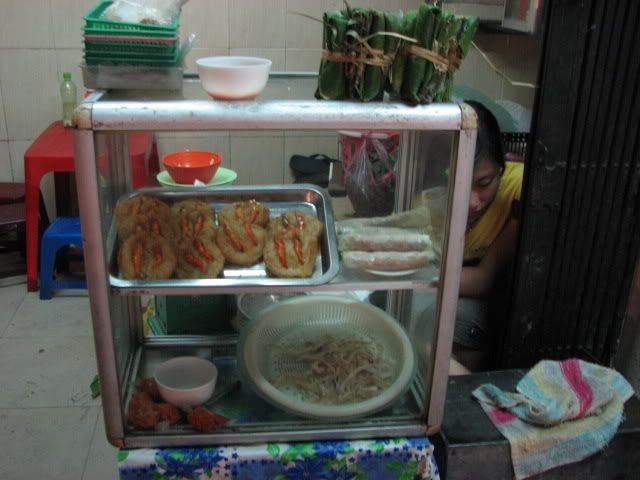 We walked past these little fellas and figured we better eat them too. All the banana fritter did was increase B's appetite for deep fried goodness…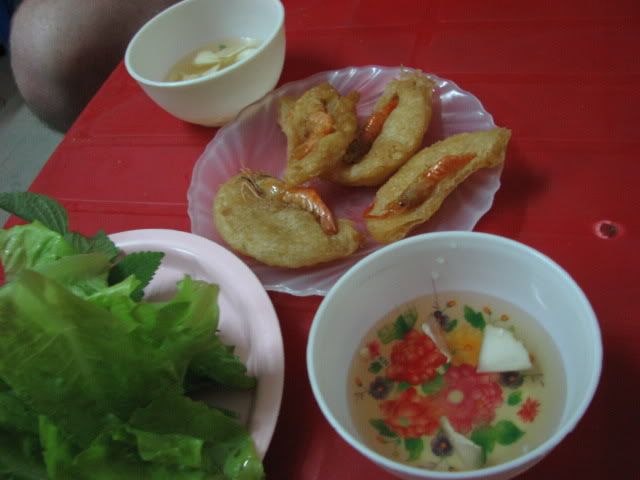 These little prawn cakes are fried until crispy. Then you wrap them in lettuce and dunk them in the sweet papaya dipping sauce. Very good. 
Minutes before I was set to explode, Bianca found the place she was looking for: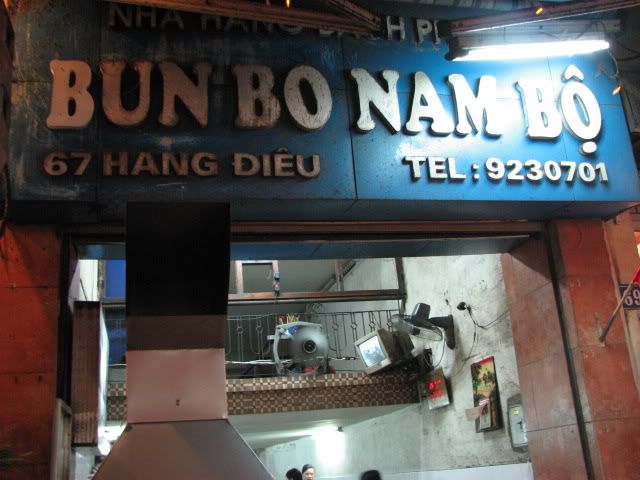 Bun Bo Nam Bo means 'noodles from the south'. They serve up big bowls of awesomeness – beef, noodles, bean sprouts, papaya, lettuce, herbs, carrot, peanuts and shallots swimming in a sweet sauce.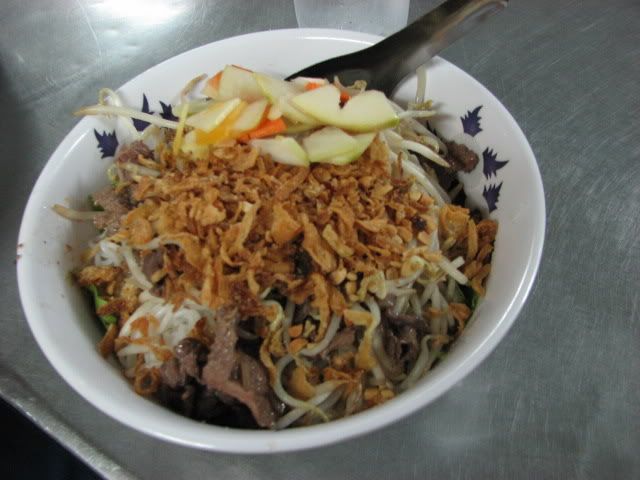 As full as I am, this is crunchy and fresh enough to eat till it's finished. "I probably shouldn't have eaten all that" I think as we waddle to the nearest corner for a final bia hoi.
While we drink, a local man comes up to me, killing himself laughing. He wraps his hands around my left thigh and then wraps those same hands around his own waist. Although he cannot speak English, his message is clear: "Have another beer you fat, western asshole!" 
AND I DO.