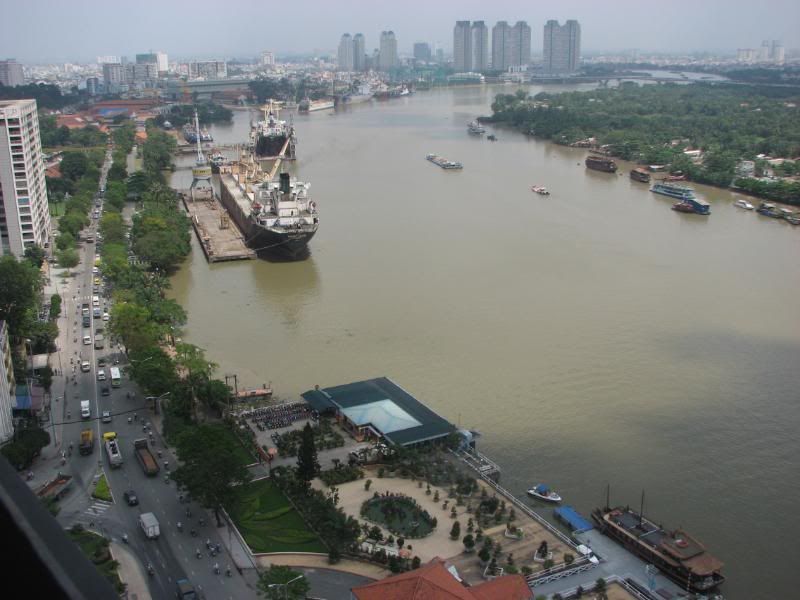 We woke up to this view of the river every morning from our hotel, Renaissance Riverside. It's a nice hotel but the city is much nicer. Why not start the day off with a nice bowl of pho from this babe:
There are a tonne of great restaurants in Ho Chi Minh City but the best food is just a couple of bucks from the street vendors all over town. This pho was pretty serious business, with a smattering of beef tendon, lotus root and crunchy pork crackling. It cost us 10,000VND, which works out at just over fifty cents.
With breakfast out of the way we started our ascent to the north of District 1, where we would find our second breakfast for the day…
I eat a lot of Vietnamese food in Sydney and after seeing an episode of No Reservations, where Anthony Bourdain and his old boss chomp their way through Ho Chi Minh City and Hoi An, I knew I had to come here. Sometimes I feel like No Reservations can be a little wanky (I hate it when Bourdain focuses on the spiritual side of a city he's visiting and forces the viewers to ten straight minutes of him sitting in a temple NOT EATING ANYTHING, complete with awful free copyright production music playing in the background – panpipes and harps!) but this episode was free from wank and instead full of incredible food that I absolutely had to eat. And now that we were in the same country as this food, we had no excuse but to find all the dope spots Bourdain and his old French mate ate at.
Our first dish: Banh Xeo, at 46A Dinh Cong Trang
Banh Xeo is a Vietnamese pancake filled with prawns, pork and beansprouts, fried on one side and folded in half. It's served with a plate full of different herbs and a dipping sauce.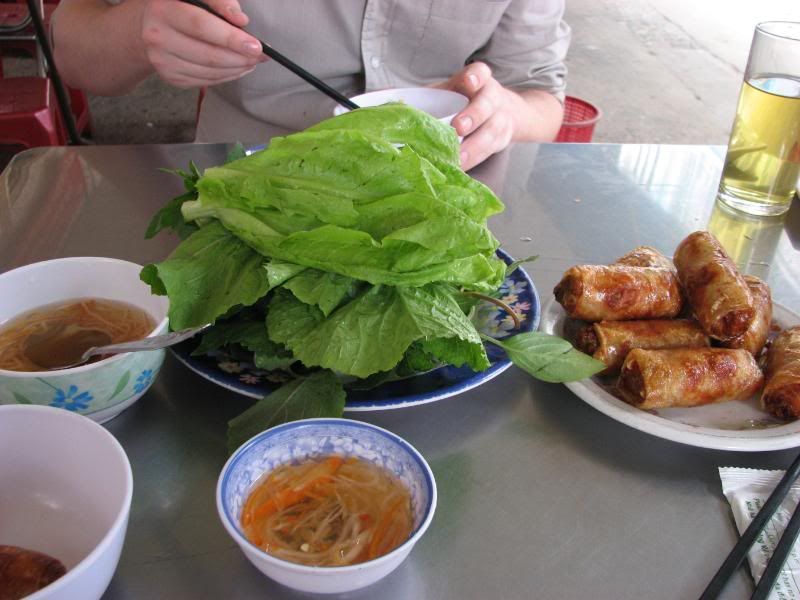 You tear off a bit of the pancake, wrap in herbs and dip it in the sauce, just like B is doing below:
The place also dished some boss spring rolls that were crispy on the outside and dense with pork and spice on the inside. Real good.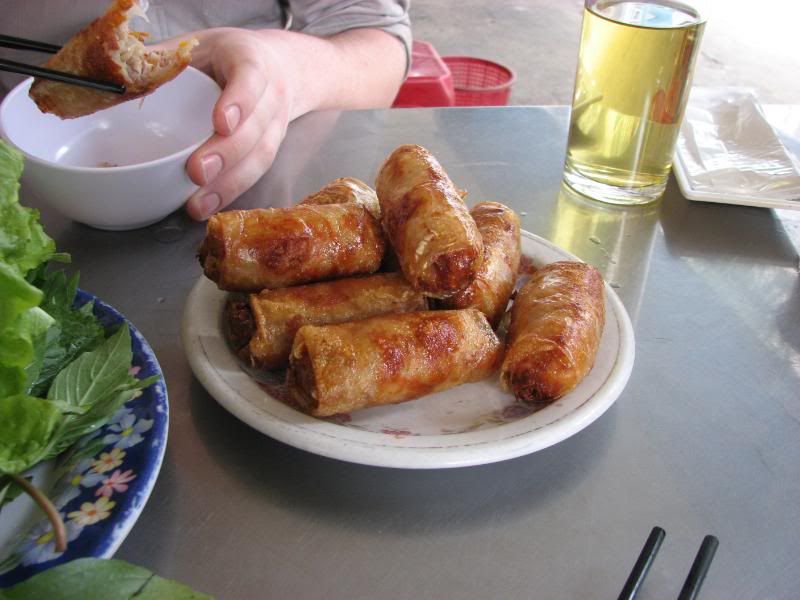 We'd not even wiped the oil from our lips and it was time for our next breakfast, our third for the day. Maybe we should call this one lunch, even though it was still in the AM when we ate it. 
After scaling one end of Hoang Sa to the other, walking along the brown river and stopping for morning beers (the best kind of beers!) along the way, we finally found who we were looking for: The Lunch Lady.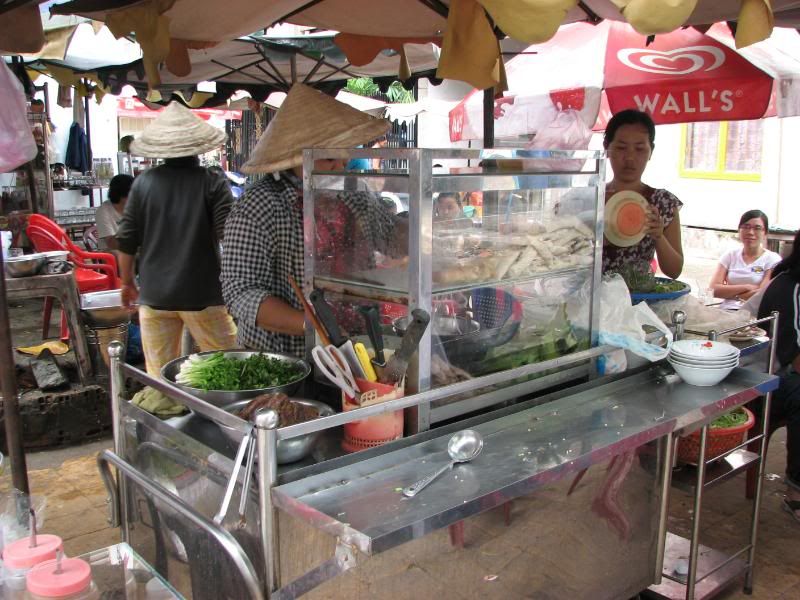 The Lunch Lady is a street vendor who simmers a wild new pot of soup every day, spooning it into the bowls of lucky bowl holders who rock up from 11am till when she runs out of her holy elixer. Gastronomy Blog has done a very thorough post that lists what kind of soup she cooks each day, as well as the best map of how to find her.
We were psyched to be here on a Friday because Fridays are when The Lunch Lady makes Bun Bo Hue, the beefiest soup there is! And holy moly would you look at this motherfucker:
I SAID LOOK AT THIS MOTHERFUCKER!!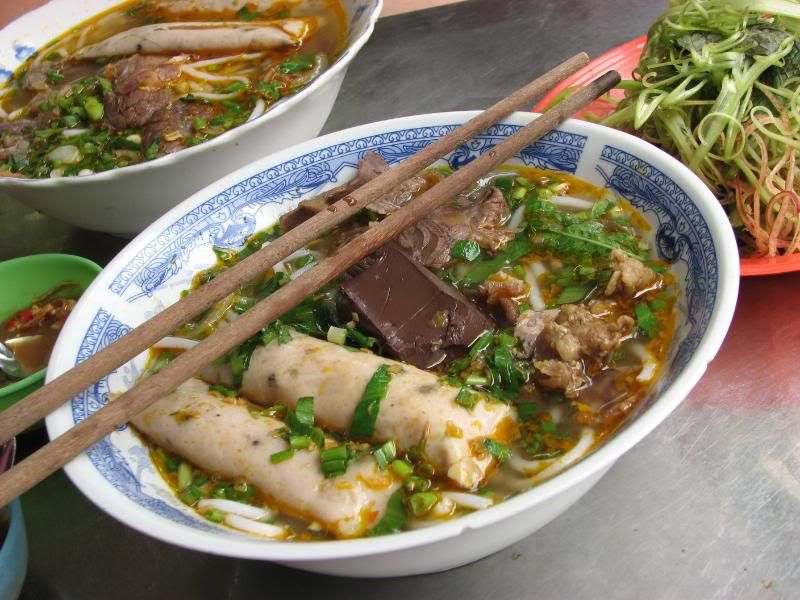 Words can't do this bowl of soup justice. It had it all. Slices of beef, pork sausage, pig's blood, thick noodles, herbs and oh man, that spicy, beefy broth. 
B was so in love with her soup she demanded I take her picture with it: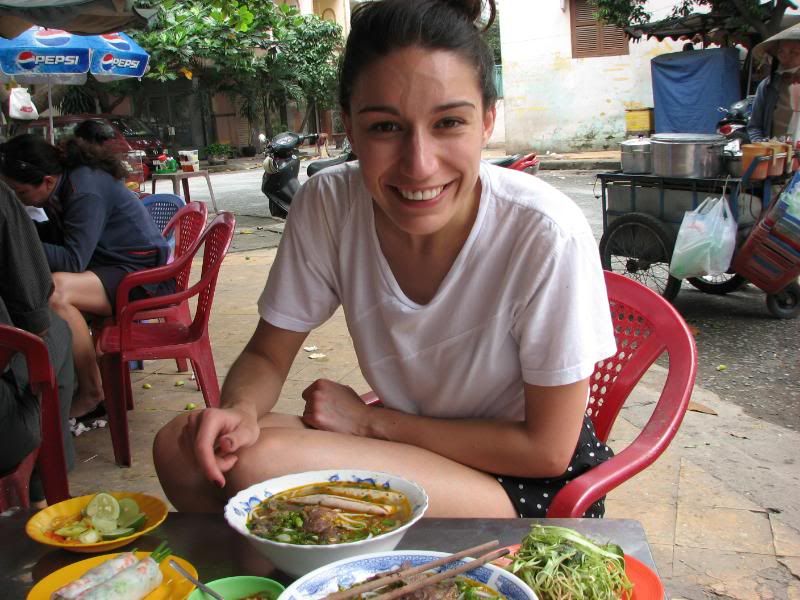 But I decided to one-up her and had my picture taken with The Lunch Lady herself: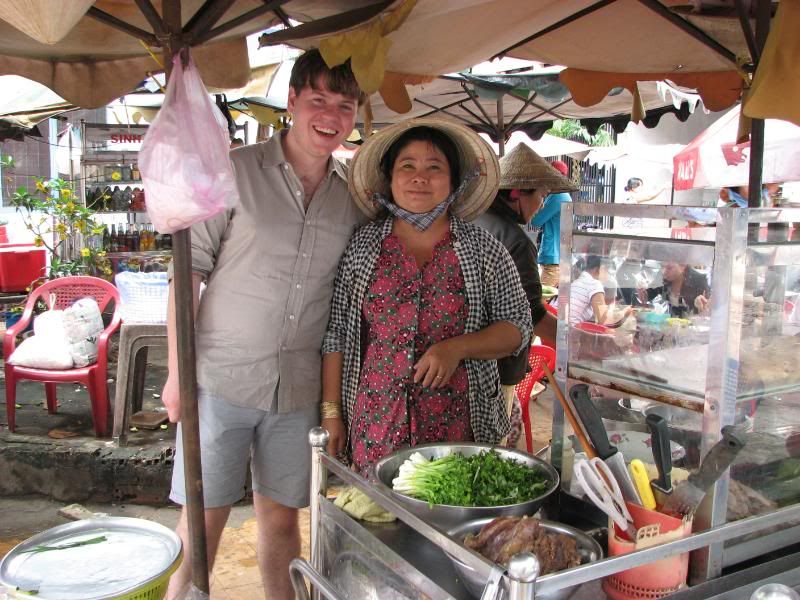 What a babe! Oh and The Lunch Lady is in this photo too.
Friends and family of The Lunch Lady run the stalls that surround her soup stand, selling rice paper rolls, drinks and chế, a sweet dessert that comes in a Pikachu bag!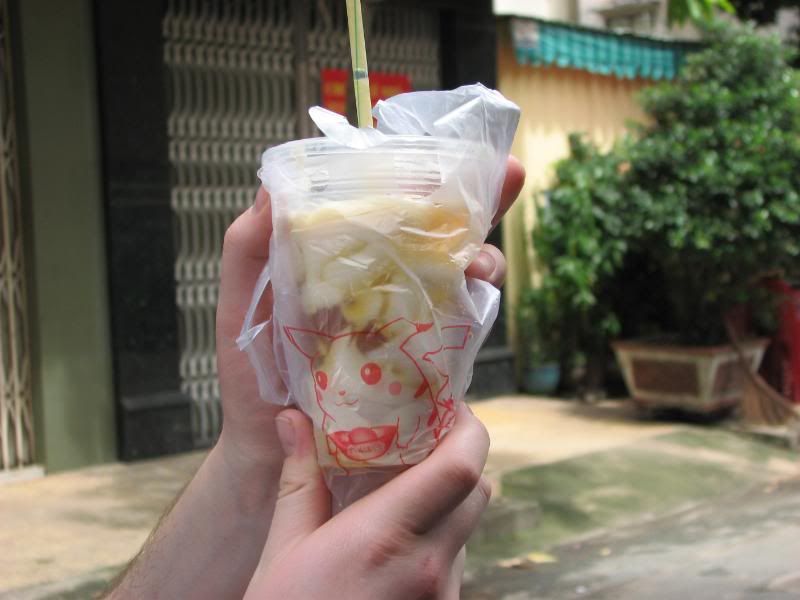 On the long, hot walk back to our hotel we were deep in thought. Would our life be the same after eating The Lunch Lady's delicious soup? Is 'Lady' The Lunch Lady's maiden name, or did she take it on after marriage? Would various Pokemon adorn the rest of our beverages in Vietnam? And most importantly, what would we have for dinner?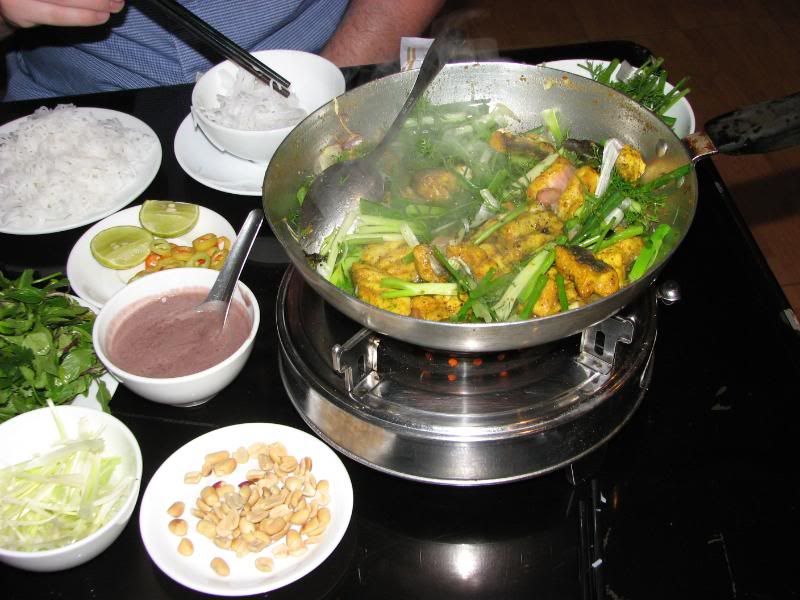 Cha Ca La Vong is a restaurant that serves just one dish: Hanoi style fried catfish with tumeric and dill. Even though we were headed to Hanoi in just over a week, we'd heard that this Ho Chi Minh City restaurant does the dish better than anywhere else in Vietnam. And it was pretty damn good!
After our fourth and (unfortunately) final meal of the day, we lay in bed with our hands clutching our engorged tummies, content with the food we'd eaten and making an oath to each other not to blog about any other activity we partake in while we stay in this beautiful city.