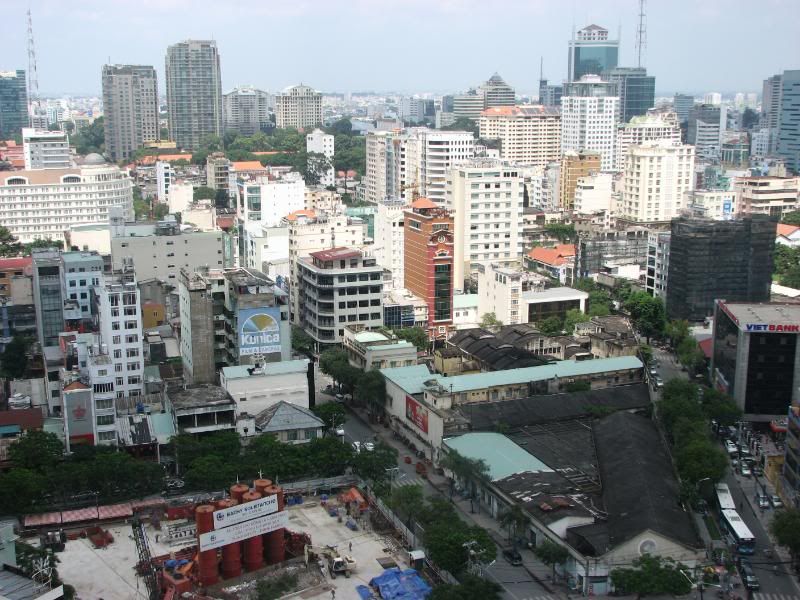 We begin our last day in Ho Chi Minh City with a fantastic bowl of pho tai from Pho Hoa (260C Pasteur Street, Ho Chi Minh City).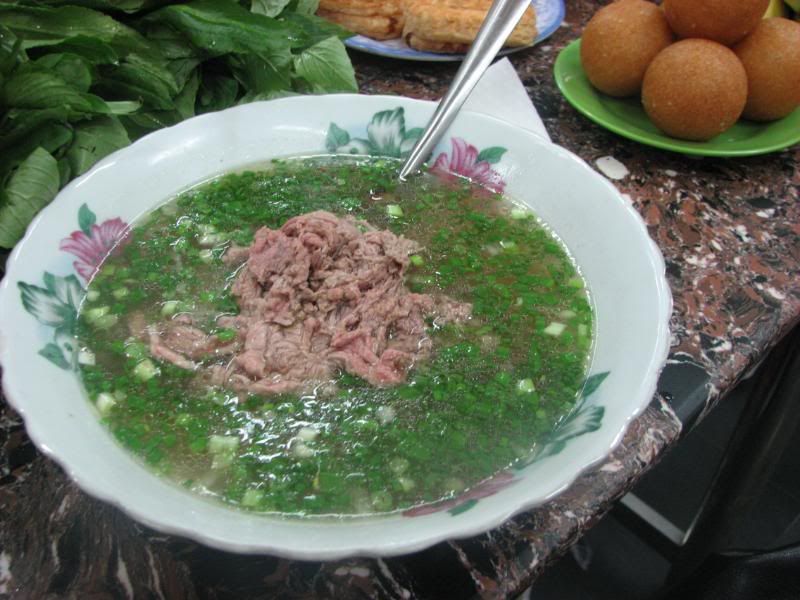 I have a pretty important rule when it comes to pho: if it's really good, you have to show that pho some goddamn respect and finish the whole thing, no matter how full you are. It's a rule that keeps me in size 34 jeans each year. 
The pho tai at Pho Hoa is a great way to start the day. The broth is a little sweet, not salty, and they are generous with the slices of raw beef. I showed the bowl of pho some respect and smashed it.
Phull of pho, we walk back to our hotel and pass a cage full of puppies.
As I pat them I hope they are puppies with a future as pets, not as main course somewhere that evening. We haven't seen dogs on the menu yet and I hope it stays that way!
Dogs don't feature on the menu at Quan An Ngon (what a segue!) but it features pretty much every other popular Vietnamese street food, cooked by street eat chefs who line the walls of this massive restaurant. It's an easy way to eat as many specialties as possible without venturing through the city looking for every specific food cart. It's also a good way to kill a few hours before our flight in the afternoon, so Bianca and I begin a mini degustation with matched drinks!
First up: bbq'd cuttlefish! With beer!
Next were these snails with pork and lemongrass (Ốc nhồi lá gừng). The snails were diced, combined with minced pork and glass noodles, stuffed back into the shell with the lemongrass stem and steamed. You pull on the lemongrass and the little snaily parcel pops out! These were enjoyed with beer.
I don't remember the name of this porky dumpling thing but I do remember that we ate it with some beer on the side.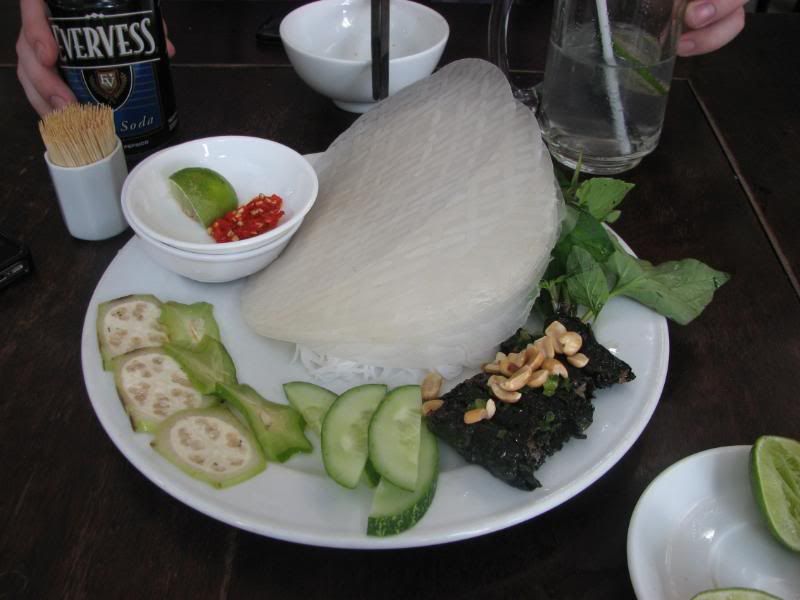 Bò Nướng Lá Lốt – beef wrapped in betel leaves and grilled. You wrap these meaty little parcels in the rice paper with some noodles and greens rolled in there too. Also you eat them while drinking beer.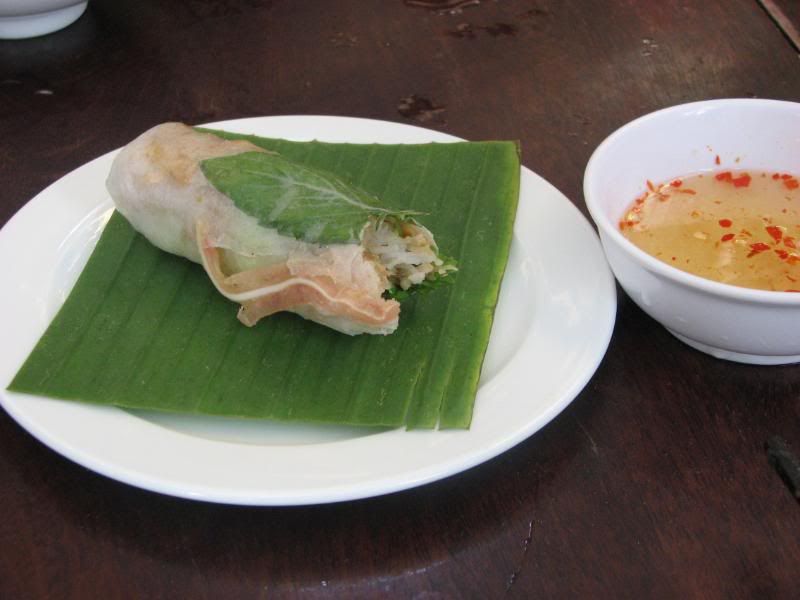 Pigs ear spring roll! I think we mixed it up at this point and had a soda and fresh lime.
Finally we knocked it up a notch with this bad boy:
Filet mignon with fried egg, french fries and baguette with dipping sauce!
Since I was with none other than THE SANDWICHFACE, she quickly started stuffing these ingredients in the baguette and boom! Cholesterol roll!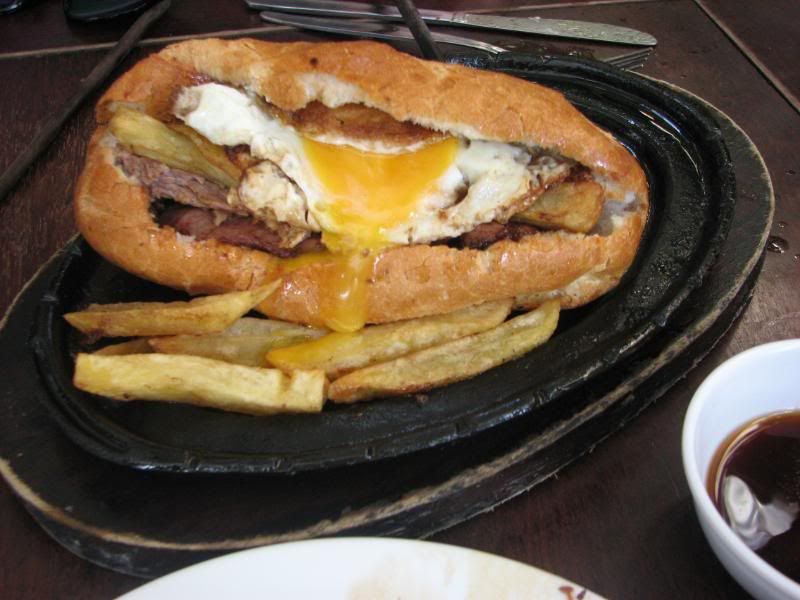 We crammed the french inspired heart attack down into our already full stomachs and bid farewell to Ho Chi Minh City, grateful for it's accommodation for the last 4 days. 
4 days was not enough time to scrape the top of the manic barrel that is Ho Chi Minh City. I can't stress enough how big the city felt. Bigger than LA, New York, Tokyo. Weird right? And it was getting bigger – every street was in a constant state of construction, day and night. People didn't seem to sleep! Maybe it was the iced coffee they sell on every corner keeping them up. Make sure you drink a gallon of that brown gold too, on ice with condensed milk. The vendors pour it from empty pepsi bottles. The dodgier the coffee looks the better it is, and we wouldn't see the proper roadside stuff anywhere besides Ho Chi Minh City! Drink as much as you can!