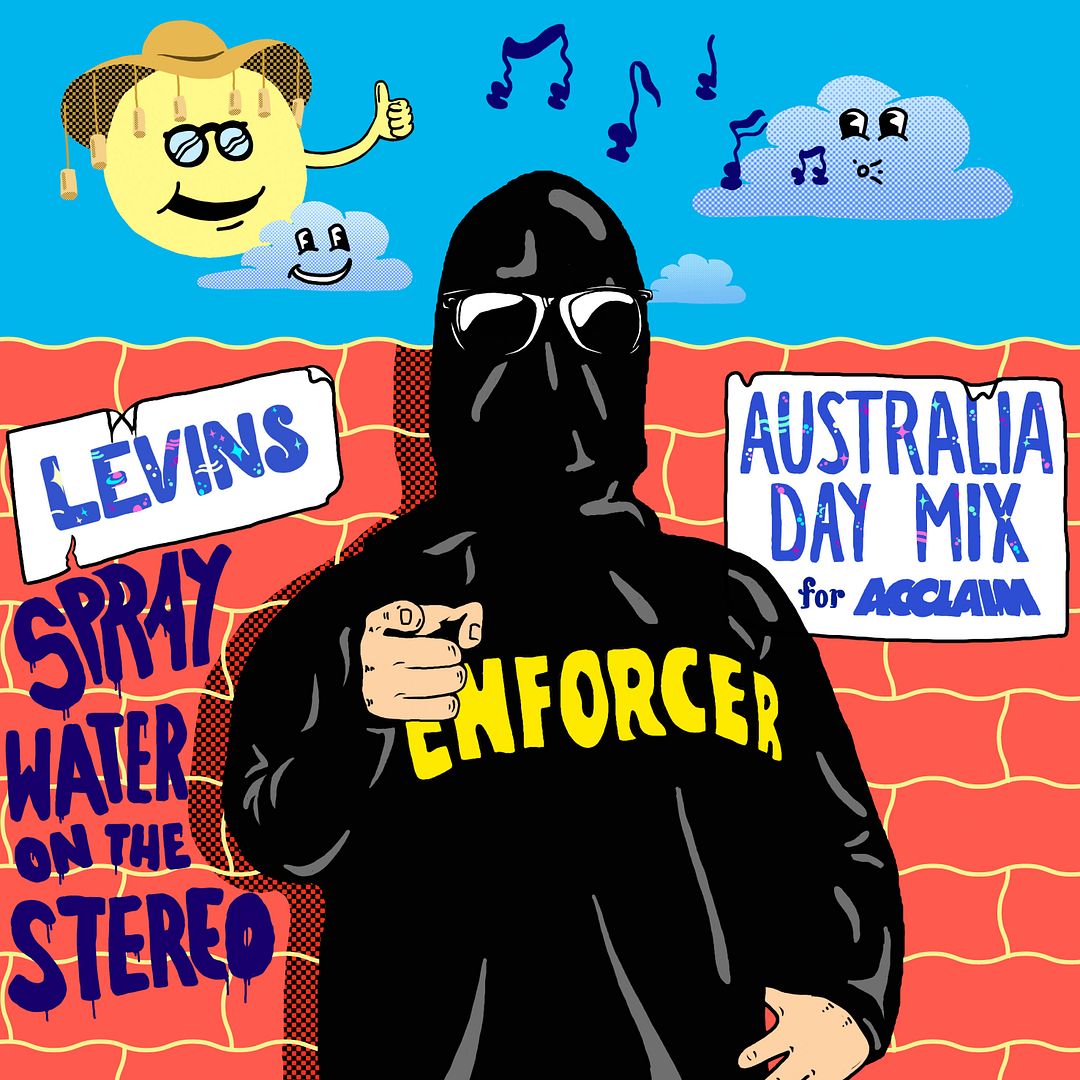 LEVINS – TURN UP YOUR STEREO! | AUSTRALIA DAY MIX FOR ACCLAIM
Happy Australia Day! I've been feeling fairly un-patriotic ever since my final laser session removed all traces of the Southern Cross tattoos on my neck, lower back and left buttock so I thought I'd put something super Oztrayan together to re-pledge my allegiance. Something that really puts the third 'Aussie' in 'Aussie Aussie Aussie' and the second 'Oi' in 'Oi Oi Oi'. I needed to take a little trip back though, to a time where almost all the music I listened to was local produce, and boy oh boy did I fuckin' love that shit. I'm talking about high school, which for me was 1997 – 2002. Instead of studying for 4 Unit English or hitting on girls you could catch me spending all my time listening to triple j on my ghettoblaster, my fingers patiently hovering over the red record button, ready to capture my new favourite songs from The Jebs, The 'Spoon or The 'Gurge so I could learn all the words before I saw them play at the all ages festival at St Ives skate park that weekend, where I'd be pretending that the 10 dexies my friend had stolen from his brother with ADD and shoved down my throat had really got me fucked up (they hadn't).
This mix is a tribute to those days. If you went back in time and stole all my cassettes out of that walkman I won from the MS Read-A-Thon, they would probably sound exactly like this mix, except luckily bloody Tunny isn't yammering over the top of all the tracks in my mix. I tried to include as many of my favourite songs from that era, all of them Australian. There are some glaring omissions but hey this was super fun to do so I'll probably put together another volume for the next patriotic public holiday (Easter? Jesus was a digger right?).
Spray some water on your stereo and turn it up loud. Sing along to the songs you know and pray that Quan and Janet get back together one day. Explain to a younger cousin what Recovery was and pretend you never saw Garage Days. Happy Australia day mates. PS thanks heaps to @bobbygelato for drawing that amazing artwork on his computer machine!
– SOME MORE WORDZ –
Last month I was asked by Alex at Acclaim Magazine (who is awesome fyi) to put together an all-Australian mix for Australia Day. My first thought was to put something together of all the recent releases from young electronic Australian producers but that mix would probably just be Jonti's recent free album with the tracks in a different order, so I needed to come up with a better idea. Obviously that idea was to go BACK IN TIME.
I was a huge fan of the Radio Friendly Unit Shifter mixes that Nick Catchdubs put together with Mr Ducker for Mishka NYC. If you haven't heard these amazing tributes to alternative music in the 90's listen to all three of them now! They're a fantastic, well mixed collection of time capsules to a better time (for 'alternative music' anyway, when was the last time you even heard that term?!).
After listening to those mixes some hundred times each, I wanted to do an all 90s Australian mix in a similar style. Catchdubs had represented the American side super well, even delved into some UK shit but understandably there was not one Aussie song on any of the mixes. So I had to do my part for my country. Half my favourite songs from that era are from 2000 – 2002 (the final two years of my high school xxxperience) so I had to extend the timeframe a little. 
I put together a list of 150 songs that I loved back then and set out on a pretty impossible task of actually finding half of them. So many brilliant old Australian record labels have no presence whatsoever on the internets, many of them just exist as text on a Discogs page, with nowhere to buy their back catalogue. It's easier to find videos of their artists performing on Recovery on YouTube than it is to find the songs they're performing.
After raiding my old CD collection at my parents' house (shouts out to them for not throwing it out yet) and bugging some pals at triple j to raid the music library for me, I had a pretty great collection of old Aussie gold / gold Aussie olds. So here are 26 of those songs, all mixed, just in time for Australia Day (happy that, by the way).
LEVINS – TURN UP YOUR STEREO! | AUSTRALIA DAY MIX FOR ACCLAIM
Download: http://www.mediafire.com/?7k8qexe5ldl9k9g
Tracklist:
1. ESKIMO JOE sweater
2. AMMONIA drugs
3. CUSTARD nice bird
4. REGURGITATOR i sucked a lot of cock to get where i am
5. THE FAUVES dogs are the best people
6. SCREAMFEEDER dart
7. NOT FROM THERE sich offnen
8. ROCKET SCIENCE being followed
9. TISM greg! the stop sign!!
10. HOT ROLLERS wickerman's shoes
11. SOMETHING FOR KATE working against me
12. TURNSTYLE spray water on the stereo 
13. TUMBLEWEED silver lizard
14. SIDEWINDER god
15. THE VINES get free
16. JEBEDIAH military strongmen
17. POLLEN not rocket science
18. GERLING death to the apple gerls
19. MOLER infatuation 
20. HAPPYLAND don't you know who i am?
21. SPIDERBAIT buy me a pony
22. FRENZAL RHOMB you are not my friend
23. FRONT END LOADER summer hits
24. MACHINE GUN FELLATIO unsent letter
25. SILVERCHAIR tomorrow
26. YOU AM I purple sneakers
DISCLAIMER: There are some seriously legendary artists missing from the mix, I've been losing sleep over that so I guess I have to do another mix super soon. Enjoy!