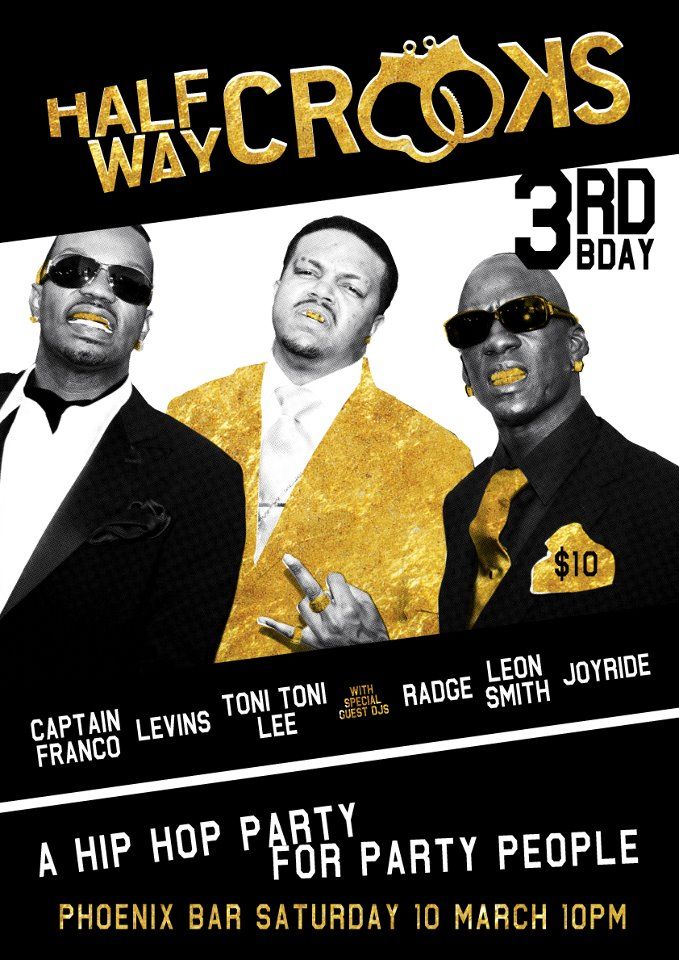 Come celebrate THREE YEARS OF WAVINESS next Saturday 10 March, when HALFWAY CROOKS turns THREE. That's right, THREE long years of being a hip hop party for party people.
It brings a tear to my eye to think about that first party. Things were so different back then. We called Toni Toni Lee "Spruce Lee", we called Levins "Sleater Brockman" and we called The Bright'n Up Bar "home". 
I remember the crazy things we said before that first party. "We will only play classic hip hop and no new Southern shit" said Franco. "I'm not on Twitter yet!" said Elston. "I don't know how to DJ!" said Levins.
Some 30 parties later and Halfway Crooks has become an Australian hero, dominating the charts and bringing home 94 consecutive number one singles worldwide. We won the Olympics, the Oscars and World War 2. 
In the 3 years since our first party, Halfway Crooks has brought peace to Planet Pit, illegalized cancer and said no to breakdancing. We starred in 3 seasons of Blue Heelers Reloaded and successfully marketed Coke Zero to most of Europe. 
We've gold plated our teeth, sold our hair to Africa and made a robot version of Dan Akroyd and now it's time to let our fucking hair down and pop a few fucking bottles of whatever cheap Cristal knockoff they sell behind the bar at Phoenix.
That's right mates it's Halfway Crooks's 3rd birthday and we're hear to kick you in the face and tell you how much you liked getting kicked in the face by us.
Captain Franco, Levins and Toni Toni Lee are leaving the safety of their palaces and heading down to Phoenix to celebrate the gift of life with you, the people. And they've invited a couple of GOATs to join them.
For the first time, Halfway Crooks welcomes our guest DJs Radge, Leon Smith and Joyride as they join our crusade to play hip hop music for party people. 
Get there early because this one's gonna be a reeeeeeaallll ball shaker.
HALFWAY CROOKS 3RD BIRTHDAY 
with 
CAPTAIN FRANCO, LEVINS & TONI TONI LEE
plus guests
RADGE, LEON SMITH & JOYRIDE
on 
SATURDAY MARCH THE 10TH
at 
PHOENIX 
from 
10PM
for 
$10